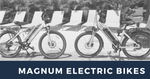 Here at Kafe Racer, we love pushing the limits when it comes to new technology. One of our most innovative products, the Magnum electric bike, is not only available for purchase at the shop but is a part of our diverse rental bike fleet as well.
Electric bicycles have been around since the early 1890s and their presence continues to grow as an environmentally friendly method of transportation.
Our favorite brand of e-bikes, Magnum, is one of the most reputable brands on the market. They have many options for customers to choose from, all of which are available or can be ordered and assembled at Kafe Racer. Magnum's environmentally conscious approach, cutting edge technology, and affordability make them a no brainer when it comes to deciding which e-bike to spend your money on.
About Magnum E-Bikes
All Magnum bikes are produced in either China or Europe. Their main partner for production and quality control is BB-Leisger International, located in Hannover, Germany. Magnum plays an extremely hands-on role in all steps of their production process by designing everything from the frame molds to custom circuit boards that best suit their product needs. Other items included on their bikes are from top name brands such as, Schwalbe, Tektro, Samsung, Shimano, and more.
Every Magnum e-bike produced comes with a rear hub gear motor. The motor itself has its own internal gear transmission. In addition, there are external gears attached to the e-bike that enable you to shift while using the pedal-assist mode. Each electric bicycle can either be put into a pedal-assist mode where the motor gives you a "boost" while you pedal, or throttle mode which doesn't require any pedaling at all.
Battery Life for the Magnum E-Bike?
Depending on the bicycle model, the battery will either have 48 volts or 36 volts of power, with varying amounts of amps (also known as the rate in which the electricity is drawn from the battery).
Of the 6 bicycle battery models, the most powerful is the 48V 16Ah, with a maximum range of 65 miles. Each battery available is dependent on a number of factors including the e-bike model and the estimated daily usage. All batteries, however, have a minimum range of at least 25 miles.
The battery range can improve with proper maintenance of the bike such as appropriate tire pressure, using a healthy balance of both the pedal-assist mode and the throttle mode, and making sure you are in the correct mechanical gear.
Charging the battery on your e-bike should take about 6-6.5 hours each time and can be done anywhere with a compatible outlet. It is best to use the full battery completely before recharging it and not leaving it on the charger for more than 24 hours.
Where Can I Take My Magnum E-Bike?
The Magnum Mi5 and Leisger MD5 are mountain e-bikes. Both of these bikes are built to handle on and off-road terrain (however excessive jumping and "rough riding" will quickly ware down the battery power).
The Magnum Ui5 and Leisger CD5 are city bikes and are more ideal for urban use, such as your commute to and from work, biking around the neighborhood or running down the street to pick up some groceries!
Whether you're looking into buying or renting a Magnum Electric Bike, Kafe Racer is the place to go. Our bike shop is the only Magnum Dealer in the Dunedin area, so our knowledgeable staff can help find you the perfect electric bike to fit your needs.