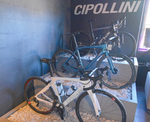 Cipollini offers Italian made bicycles that are built with the sole purpose of transferring all of a rider's power to their forward movement. With a focus on single-piece monocoque frames, the Italian company aims for a proper power-to-weight ratio as opposed to a lighter bike with less power.
To put it simply, the entire bike frame is made in a single mold, with each bike size having its own unique mold. This means the carbon frame can run all the way from the chainstay, through the bottom bracket, down to the tube without interruption. This engineering concept allows for no hard stops or bond points in the carbon mold.
Mario Cipollini started this brand to create the machine he wished he could've had when he raced. After retiring from the international racing circuit in 2008, Cipollini put all of his efforts into creating a truly custom and aggressive road bike, made for one who truly wants to get the most out of their road-biking and racing experience.
His hopes with these bikes and the collections to come is for real cycling enthusiasts to "enjoy life, enjoy your bike, enjoy cycling!"
Types of Cipollini Bikes
The "RB1K The One" is Cipollini's original road bike model. As a class leader in stiffness, it was designed to handle the strength and harness the power from cyclists like Mario Cipollini.
What Type of Rider Is Cipollini Built for?
Cipollini's Italian bikes are made for professional athletes and those who want to get the most out of their riding experience. The main goal of the 2020 Cipollini collection is to give riders the ability to feel the bike as well as give them the satisfaction of knowing it's built to perform based on their power.
We encourage all cyclists to try out the Cipollini brand, however the nature of the bike does make for a difficult and intermediate ride.
That being said, Cipollini frames are known to be in high demand; with less than 2,000 being conceived, designed, manufactured, and tested in Italy each year.
The Best Terrain For Cipollini Bikes
Cipollini bikes, by nature, are road bikes made for traditional racing scenarios. However, hills, sharp turns, and other terrains (most of which we don't see here in Florida) the bike handles extremely well.
Cipollini's first gravel bike, The MCM All Road, is built for both road biking and off-road riding.
Cipollini Merchandise Available at Kafe Racer
The Cipollini models available at Kafe Racer are as follows: RBK1 The One, the Bond, the NK1K, and the MCM. If we don't carry the bike model you're looking for, our team can custom order and build the appropriate bike that will fit your needs.
We do not offer Cipollini as a rental option at the shop, however we are happy to setup a test ride if you are interested in purchasing a specific model.
In addition to the Cipollini bikes that we carry, Kafe Racer also has a wide selection of Cipollini water bottles, apparel, and riding kits. If you're looking for something in specific or for a certain size, please feel free to give the shop a call!
Kafe Racer is one of five Cipollini dealers in the state of Florida, setting us apart from the other Dunedin bike shops in the area. Not to mention, we ship our bikes and merchandise nationwide!
Build a Custom Cipollini Bike
Every Cipollini is considered a custom bike. While there is standard sizing for the monoculture mold, every option possible can be adjusted and customized to the rider.
Since Kafe Racer is a Cipollini dealer, we have the ability to consult your needs and provide recommendations for frame style. Beyond that, you'll be able to select a color, saddle choice, and pedals! Your Cipollini will be customized to fit you perfectly giving you a truly custom ride.