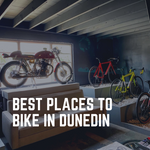 With close proximity to St. Joseph Sound and the lively downtown culture, Dunedin provides some of the best biking in all of Florida.
How To Get Outside In Dunedin
Get out for a mid-day walk around Dunedin! Being able to walk almost everywhere in the downtown area gives our residents and visitors the ability to take in all of the culture, scenery, and local food and drink options.
Paddle Boarding is one of our favorite ways to get outside and see Dunedin from a new perspective. If you're looking to rent paddleboards in Dunedin, check out 

Sail Honeymoon

. It's located directly on the Dunedin Causeway, only a short paddle to Caladesi or Honeymoon Island.
Boat rentals! With numerous marinas and boat rental options, the process of getting out on the water is fairly easy for anyone who wants to experience local Dunedin life. After getting out on the boat be sure to check out some islands in the St.Joesph Sound as well as barrier islands like,

Three Rooker,

and

Anclote Key

. 
In case it wasn't obvious, our favorite way to get out and explore Dunedin is biking. The downtown area is centered around the Pinellas Trail and ends right next to Edgewater Drive. Both of these areas offer beautiful stretches of biking with natural views of the water as well as undeveloped areas of land that are rare in Tampa Bay.  Plus Kafe Racer is centrally located to some of the best beaches, trails, and parks in Dunedin.
Best Places To Bike Around Dunedin
The Pinellas Trail
As we mentioned above, the Pinellas Trail provides a beautiful route from Tarpon Springs, FL all the way to St. Petersburg. FL. After renting bikes at Kafe Racer, you can head out the backdoor right onto the trail and experience everything Dunedin (and the rest of Pinellas) has to offer! Although we recommend renting bikes to explore the trail, it's also a great area to walk, run, skate, etc.! For directions or trail information, head to our page covering the Pinellas Trail or ask one of our local team members. 
Honeymoon Island State Park 
The white sandy beaches of Honeymoon Island offer the perfect escape from reality. As one of Florida's most-loved state parks, Honeymoon Island has about four miles of beach to explore as well as a three-mile trail through virgin slash pine forest. For those who love nature, you'll be able to spot wildlife like eagles and great horned owls, take a swim in the blue ocean waters, go fishing, and so much more!
Honeymoon Island State Park is about a five-mile bike ride from the shop. Head to our website to reserve your bike rental or give our shop a call at 727-466-1245. 
Clearwater Beach
Named as the #1 beach in 2018 by Trip Advisor, Clearwater Beach has impeccable beaches and some of the most beautiful blue waters in all of Florida. In addition to the tropical scenery, the small town of Clearwater Beach offers attractions such as restaurants, bars, an aquarium, beach activities, and more. This town is great for both the entire family, or a solo trip!
Clearwater is located about 6 miles from Kafe Racer. For bike rental inquiries, head to our website or give us a call at 727-466-1245. 
Downtown Dunedin
For those of you looking for unique restaurants, bars, boutiques, & more - Downtown Dunedin is the spot for you (although we recommend everyone to check out the Downtown area)!
Downtown Dunedin is best explored on foot - so lock up your bike, park your car, & spend a few hours walking along Main Street. Downtown offers a selection of casual and fine dining restaurants (some of which are dog-friendly), breweries, watering holes, arts & crafts, & more. Plus - if you plan to visit on a Friday or Saturday, you'll be able to explore the Dunedin Downtown Market in Pioneer Park. 
For further recommendations on Dunedin (whether it's where to bike, stay, eat, etc.) and how to make the most of your time in our favorite city, please don't hesitate to reach out to one of our local employees at the shop!