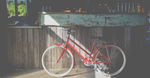 Located at 998 Douglas Ave., Dunedin, FL, Kafe Racer is an innovative, full-service bicycle shop that combines amazing customer service and the newest biking technology to aid in enhancing Dunedin's local atmosphere. With our year-round warm weather, beautiful views of the St. Joseph Sound, and Kafe Racer's proximity to the Pinellas Trail, our local bike shop is the perfect fit for all your biking needs.
Kafe Racer was born from a spur of the moment decision by owner, Jan Heylen. The shop's modern black interior features a collection of beautiful racing bicycles and a deconstructed Porsche to show off Jan's hobbies of Porsche racing and competitive cycling. The shop was designed to provide customers with a comfortable space to wait on bike rentals and repairs, while the Kafe was built to give our Dunedin community a spot to enjoy local roasted coffee and baked goods.
Shop Services
Bike Rentals
Our bike rental process is extremely convenient and can be organized both at the shop or on our website. To rent a bike online, head to the menu navigation bar on our website, hover your mouse over bike rentals, and select the RENT NOW option.
From there select your preferred rental date, bike of choice, hit the checkout button, and BOOM - your rental reservation is confirmed.
Our rental bike fleet includes Magnum Electric Bikes, Bianchi hybrids and road bikes, Brooklyn and Sun cruisers, KHS and TerraTrike tandems, TerraTrike trikes, children's bikes, and more.
Retail Bicycles
Whether you are a beginner level biker or a professional cyclist, Kafe Racer has a bike for everyone! Our selection of bikes for purchase at the shop include, beach cruisers, road bikes, hybrids, trikes, tandems, electric bikes, children's bikes and more.
We retail some of the most reputable brands on the market such as:
Cipollini, Bianchi, 3G Bikes, TerraTrike, Giant Bicycles, Magnum Bikes, Scott, Brooklyn Bicycle Co., Sun Bicycles, Ridley, and more.
Don't see a bike you love at the shop? Our well-trained staff can assist in creating a custom order request.
In addition to our selection of bikes, we also have an assortment of apparel and cycling gear for purchase at the shop. From Oakley sunglasses, to On Performance Running Shoes, Thousand helmets, and so much more - you'll be able to get fitted for just about anything you need to hit the road.
The best part about making a purchase through Kafe Racer? We can ship all bikes and merchandise nationwide through a service called Bike Flights.
Mobile Bike Repair
Our latest mobile bike repair service helps avid riders save time so they can ride more! From basic bike tune-ups to full overhauls and cleanings, our team will come to you. Kafe Racer will schedule the bike pickup, diagnose the issue and call with a quote to repair.
Upon customer approval, we'll get your bike repaired and returned back to you!
The mobile bike repair service is available on Mondays and Thursdays between the hours of 6-9PM. Pricing and availability vary based on location, so make sure to give us a call for more detail.
The Kafe
Kafe Racer's newest addition is our Kafe! The Kafe serves a wide selection of home baked goods from Dancing Whisk Bakery, an assortment of gelato, Kahwa coffee, tea, and more. We'll soon carry a selection of beer and wine from our neighbors over at Woodwright Brewing Co. (we're excited to share more info on this in the coming months).
We love supporting our local vendors and are proud to carry locally sourced products from the Pinellas County. We also take environmental conservation very seriously around here, so you can count on all of our methods of serving food to be eco-friendly.
Supporting our community is one of our top priorities at Kafe Racer. Not only is it important for us to support local business, but it's also important for us to help and support each and every person that walks through our doors. We love Dunedin's "small-town feel" and hope to cultivate the same atmosphere here at Kafe Racer. Our staff has become our family and we hope that your experiences and interactions with us provide that same feeling of home.
Come in soon and check us out!